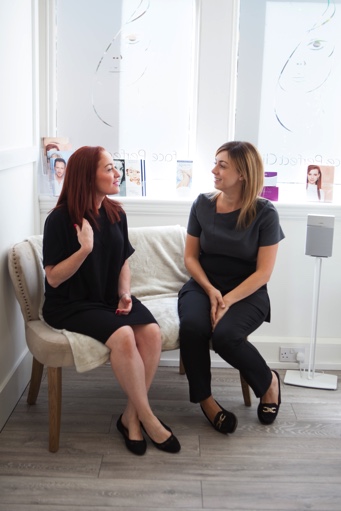 Welcome to Face Perfect Clinic.
Face Perfect Clinic is a rapidly growing medical aesthetics and skin clinic in central Leeds, which has since expanded into South Yorkshire. The practitioners behind Face Perfect are two trained medical professionals and Independent Nurse Prescribers, Keely McBride and Jo Hick, who deliver safe and effective facial rejuvenation.
We believe in the importance of individual assessment and consultation before any treatment you have with us. We arrange a confidential and comfortable initial consultation for all of our clients so that we may assess your proposed treatment area, listen to your concerns, and answer any questions you may have. We believe an informed client is a happy and, most importantly, safe client, which is why all of our consultations are honest. Book yours now.
When you feel comfortable in our care, we will create a bespoke treatment plan in order to achieve your optimum treatment results. We will advise on the best treatments and treatment areas to secure your desired results, subtly enhancing your natural beauty.
As a team of qualified medical professionals, we only advise the treatments that are necessary for your personal journey, and we will be honest with you if we believe it not to be in your best interest.
Keely is a member of the prestigious Allergan Medical Faculty and the qualified lead trained of Face Perfect Training Academy, and Jo has over 16 years of clinical experience, so you know you are in safe hands when you visit Face Perfect Clinic. Meet more of the team here.
Face Perfect Clinic in the centre of  Leeds  at 40 Park Square West, Leeds, LS1 2NP.
It is easily accessible from the main roads and motorways.