Face Perfect and Pro Aesthetics, two of the UK's leading medical aesthetic clinics, have partnered to provide aesthetics training for qualified Doctors, Dentists, and Nurses. Lead by Keely McBride and Rosey Drewitt-Staples, who are both members of the prestigious Allergan Medical Faculty and Key Opinion Leaders in their field, have both been providing training to fellow medical professionals for over 3 years.
The courses offered include Foundation Botox and Dermal Fillers, Advanced Botox and Dermal Fillers for the Mid Face, Advanced Dermal Fillers for the Lower Face and Facial Profiling, Lip Fillers, and Bespoke Training Plans depending on the delegate's needs.
After successfully helping many medical professionals start their lucrative career in aesthetics, Keely and Rosey are excited to combine their experience and offer prestigious training courses in Leeds, Nottingham, and the UK.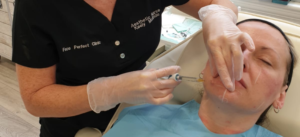 Upcoming Dates
| | | | |
| --- | --- | --- | --- |
| Date | Venue | Description | Price |
| 7 February 2022 | Face Perfect Clinic, Leeds | Foundation course in Botulinum Toxin to upper face & dermal filler to nasolabial lines, oral commissures & marionettes. | £850 +VAT |
| 27 February 2022 | Pro Aesthetics, Nottingham | Advanced course in Botulinum Toxin and dermal filler to mid face | £850 +VAT |
| 6 March 2022 | Face Perfect Clinic, Leeds | Foundation course in Botulinum Toxin to upper face & dermal filler to nasolabial lines, oral commissures & marionettes. | £850 +VAT |
| 8 March 2022 | Pro Aesthetics, Nottingham | Foundation course in Botulinum Toxin to upper face & dermal filler to nasolabial lines, oral commissures & marionettes. | £850 +VAT |
| 3 April 2022 | Face Perfect Clinic, Leeds | Advanced course in Botulinum Toxin and dermal filler to mid face | £850 +VAT |
| 12 June 2022 | Pro Aesthetics, Nottingham | Advanced course in Botulinum Toxin and dermal filler to mid face | £850 +VAT |