Dermal fillers aren't just for lips, but they've become almost synonymous with a plumped pout. Here at Face Perfect Clinic in Leeds, we've always held true to the fact that good filler isn't immediately recognisable. We want all of our clients to walk away feeling confident that they look refreshed without those around them being able to pinpoint what you've done differently. This is why we believe in the power of full facial rejuvenation using dermal fillers.
Dermal filler treatment areas
Dermal fillers can be used in multiple different areas, popular mostly in the cheeks and the lips. However, it can be used across a wide range of areas in the face.
Dermal filler treatment areas:
Nose-to-mouth lines (nasolabial lines)
Mouth-to-chin lines (marionette lines)
Hollow temples
Cheeks
Under-eyes (tear troughs or dark circles)
Lips
Chin
Jawline
Bridge of the nose (non-surgical nose job)
This is how we're able to take a full facial rejuvenation approach. We don't believe in simply treating one area when we think our attentions are best placed elsewhere, or that you'd receive a better result. We're not afraid to say 'no' to a treatment, and we're not afraid to guide you with our expert eye.
You might also like: Face Perfect's Clinical Guide to Undetectable Treatments
How to achieve full facial rejuvenation with dermal fillers
Your consultation
We'd first invite you to a consultation with one of our trained injectors. Our team of injectors are all medically qualified, so you will only receive safe treatment with us. 
At your consultation, we'll listen to your concerns. A lot of the time, we find clients using adjectives like 'tired-looking' and 'sagging', and it's in these instances that we'd recommend facial rejuvenation – meaning multiple treatment areas – rather than simply using filler in one area and not achieving your desired results.
We will then provide you with our recommendations. For example, a client may come to us and request cheek filler because they feel their mid-face is sagging and they've lost skin laxity, when in fact they could also benefit from tear trough filler and temples filler. The symptom of skin laxity in the cheeks and wanting to treat this doesn't automatically mean treating the cheeks, it may mean treating different areas to lift the skin or rebalance your facial features.
Your appointment
When you come to us for your appointment, we will make you feel comfortable and talk you through the treatment plan we agreed at your consultation. We can of course answer any further questions here and quell any concerns.
The dermal filler injections themselves will feel like a little scratch, and most clients find this perfectly tolerable. We will treat all of the areas in one appointment unless we'd prefer to see how your results settle before adding a little more or treating a different area. This approach is flexible and buildable, and we'll move at your pace.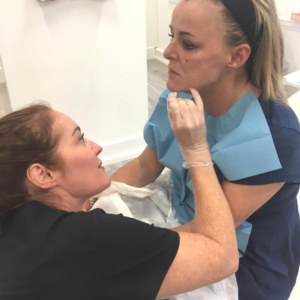 The benefits of full facial rejuvenation using dermal fillers
There are numerous benefits to this treatment approach, which is why we're big believers in it:
The treatment plan is entirely tailored to you and your needs. No one-size-fits-all approach here!
You're more likely to see your desired results after this treatment approach because we take your skin quality, age, facial features, and natural facial balance all into consideration
You can receive as much – or as little – filler as you personally need
The results are an overall more refreshed and rejuvenated appearance on the whole, rather than focussing in on one single treatment area
Full facial rejuvenation for structure
Of course, dermal fillers aren't just used for improving skin plumpness in areas that have thinned or are lacking volume. They can also be used to build out facial structure, particularly popular with younger clients. For both men and women, we have seen the rise of jawline and chin filler to create a more angular structure to the face.
Using a full facial rejuvenation approach means we can treat these areas, but we can also recommend a touch of cheek filler to balance the added structure we have placed in the lower face. 
Your own bespoke treatment plan
The full facial rejuvenation treatment method means we never rely on a box-ticking approach to our treatments, and never simply perform a treatment we don't think we should be and we always recommend alternatives where we think they'd perform better. We want to provide a service and a treatment that is best for you, so we approach every client consultation and every treatment process as a fresh journey. 
If you're considering dermal fillers in Leeds and want to make sure you visit a reputable clinic with medically qualified aesthetic professionals, then contact Face Perfect Clinic today to book your initial consultation. 
---